Recipe for cinnamon maple oatmeal muffins, great for all phases of the Ideal Protein diet protocol.
Serving: Makes 4 muffins – 2 Ideal Protein Diet meals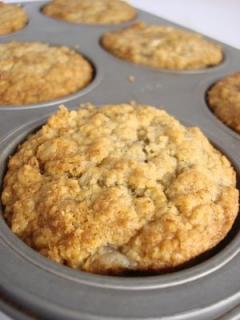 Ingredients:
1 package Ideal Protein Plain Crepe
1 package Ideal Protein Maple Oatmeal
1/4 tsp baking soda
1/4 tsp baking powder
1/4 tsp cinnamon
Pinch of salt
1 tsp. Splenda or Stevia
1 egg white
3-4 oz water
Directions:
Preheat oven to 350°F (175°C). Mix dry ingredients together. Combine wet ingredients and add to dry ingredients. Mix until batter is smooth. Fill 4 non-stick muffin tins approximately 2/3 full. There should be enough batter for 4 muffins (2 Ideal Protein meals). Bake for 15-20 minutes. These are delicious served warm from the oven with a little bit of Ideal Protein Maple Syrup or Walden Farms syrup for dipping!