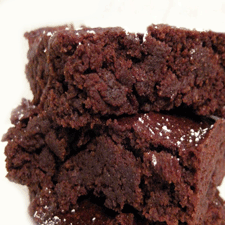 Ingredients:
2 Packages of *IP Chocolate Pancake
1 Package of *IP Chocolate Pudding
1 tbsp of Baking powder
1 tbsp Cocoa
1/4 tsp Sea Salt
1/3 cup Bran
1 Egg white
1/8 cup Splenda
Directions:
Mix all ingredients together thoroughly in a bowl.
Pour 1/2 of batter into a parchment lined 9" x 9" baking pan.
Drizzle some Walden Farms caramel syrup then add the remainder of the brownie batter over top.
Bake at 350 degrees for 20 minutes.