This is a very filling and satisfying recipe for fried "rice" made with cauliflower and your own option for Chicken, Beef, Pork, Shrimp, Ham, or Turkey.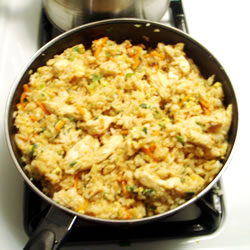 Ingredients:
1/2 head raw cauliflower, (grated to make 3 1/2 cups)
3 green onions
1 clove garlic, minced or 1/2 tsp garlic powder
1/2 teaspoon ginger
3 Tablespoons Soy Sauce
3 eggs, beaten
Olive Oil
Cooked Chicken, Beef, Pork, Shrimp, Ham, Turkey, etc.— Any mixture, your choice.
Directions:
In a wok or large flat skillet, heat enough oil to cover the bottom. Fry minced garlic (or garlic powder) with finely diced white part of onions for approximately 1 minute. Add grated cauliflower and fry for 4-5 minutes, stirring constantly. Add soy, ginger, diced green onion tops, and pre-cooked cubed meat or baby shrimp. Stir to mix well and brown a bit. Push mixture to one side of pan. Add more oil if necessary and scramble eggs in empty side of pan until done but still moist. Stir eggs into "rice" mix and remove from heat.