Similar to traditional Fried rice-without the rice!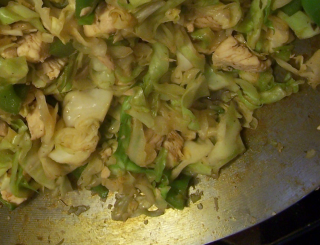 Ingredients:
2 Cups shredded cabbage
3 beaten eggs
3 oz cooked & chopped chicken (can use any kind of chicken-I use baked or grilled chicken breast)
2 T soy sauce
2 T olive oil
2 green onions
1 small chopped pepper
Directions:
Put olive oil in skillet and after heated, add onions, peppers, chicken, 1 T soy sauce. Stir a few minutes and then add cabbage. Pour eggs in and stir as eggs cook. Season with salt & pepper and add 1 T soy sauce.
very good & filling!