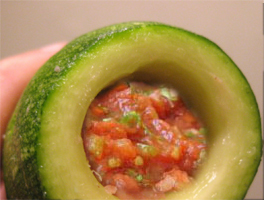 Ingredients:
1 Zucchini moderate to large size
2-4 Packets of Ideal Protein Vegetable Chili
Directions:
Cut Zucchini in half, and leave slightly hollowed out portion face up in baking dish.
Slowly pre-cook the Chili till fully hydrated on stove. Fill hollowed out portions of Zucchini and bake in the oven at 350 till Zucchini is soft.