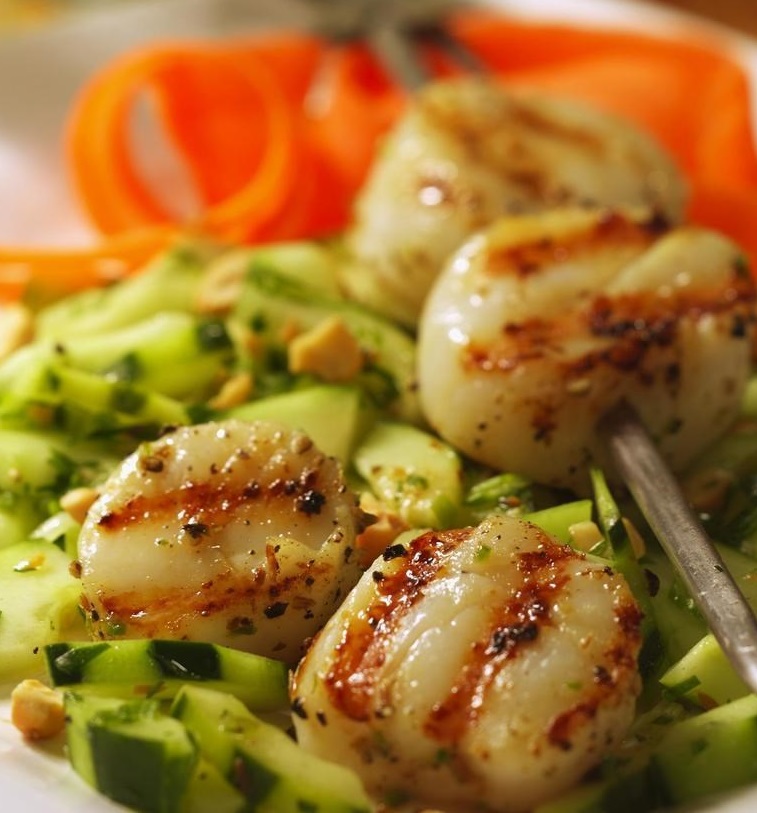 Ingredients:
2 medium cucumbers
2 scallions, (white and light green parts), thinly sliced
2 teaspoons lemon juice
2 tablespoons extra-virgin olive oil
1/4 cup coarsely chopped flat-leaf parsley
1/8 teaspoon salt
1 teaspoon cumin seeds
2 tablespoons minced seeded serrano chile
1 teaspoon freshly cracked black pepper
1/2 teaspoon kosher salt
1-1 1/4 pounds sea scallops
1/2 cup salted roasted cashews, coarsely chopped (2 ounces) (PHASE 4 ONLY)
Directions:
Cucumber Salad: Peel and seed cucumbers; quarter lengthwise and slice 1/4 inch thick. Combine the cucumbers, cashews (PHASE 4 ONLY) , scallions, lemon juice, oil, parsley and salt in a large bowl.
Scallops: Toast cumin seeds in a small skillet over medium heat until fragrant, about 1 minute. Transfer to a cutting board and let cool, then coarsely chop. Combine the cumin seeds, chile, pepper and salt in a small bowl. Rinse scallops, pat dry and rub with the spice mixture. Thread the scallops onto four 12-inch skewers.
Preheat grill to medium-high. Oil the grill rack. Grill the scallops until cooked through, about 4 minutes per side. Carefully remove the scallops from the skewers. Serve warm with the cucumber salad.