Here is a fantastic new recipe we are working on modifying that can be served as either a hot stir fry or delicious cold salad.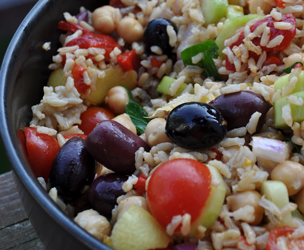 Ingredients:
2 cups of chickpeas (dried and cooked)
1 cup of rice
1 small bunch of radishes
2 tablespoons of preserved lemon (finely chopped)
1 bunch of finely chopped parsley
2 tablespoons of finely chopped red onion
2 tablespoons of fresh squeezed lemon juice
1 tablespoon of champagne or white wine vinegar
6 tablespoons of extra virgin olive oil
1 pinch of sea salt
1 pinch of pepper
Directions:
Prepare Chickpeas and Rice
Cook dried chickpeas, place in a large saucepan covered with cold, salted water. Bring to a boil. Let boil for a few minutes. Cover and turn off the heat. Let sit for 1-2 hours. Bring to a boil again and cook for a few more minutes until they are your desired tenderness.
Place the rice in a large saucepan and cover with cold, salted water by a couple inches. Bring to a boil, then reduce heat just a bit. Let cook until the rice is tender (about 25 minutes). Drain the water.
Prepare the Vinaigrette
To make the Vinaigrette: Place the chopped red onion in a bowl, or jar, and sprinkle with a little salt. Pour the vinegar and lemon juice on top and let soften for about 15 minutes. Then whisk in the olive oil, or give the jar a shake. Season to taste with salt and pepper. Place in the refrigerator, let it warm up for a few minutes before you plan to use it.
Place the rice and chickpeas into a large serving bowl along with the parsley, radishes, and preserved lemon. Pour as much dressing over the salad as you like. Start with a little and add more, you will not need to use the entire amount that you made. Toss the ingredients together and let the flavors meld for a bit. You can even refrigerate it and let it warm a bit before serving.
Additional possibilities - Add fresh olives, baby tomatoes, or sliced cucumbers for taste (see picture).