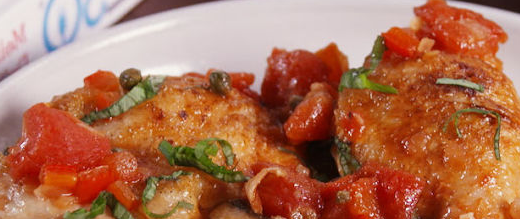 Ingredients:
1 tablespoon olive oil
8 small skinless chicken thighs (2 lbs)
Salt and cracked blak pepper to taste
3 cups sliced cremini mushrooms
large green pepper cut into bite-size strips
3 cloves garlic, minced
1/2 cup chicken broth
1 28 ounce can diced tomatoes
1 1/2 cups frozen pearl onions
1 teaspoon dried oregano, crushed
1 teaspoon coarsely ground black pepper
2 tablespoons Walden Farms Balsamic Vinaigrette
1/3 cup snipped fresh flat-leaf parsley
10 pitted Kalamata olives, chopped (phase 4)
Directions:
In a large skillet heat oil over medium heat. Sprinkle chicken thighs lightly with salt and cracked black pepper. Cook chicken thighs in olive oil just until browned, turning once. Remove chicken from skillet; set aside.
Add mushrooms, pepper, and garlic to skillet; cook for 4 minutes. Add chicken broth. Simmer, uncovered, until liquid is nearly evaporated. Add tomatoes, onions, oregano, and the 1 teaspoon coarsely ground black pepper, stirring to combine. Return chicken to skillet. Simmer, covered, about 20 minutes or until chicken is done (180 degrees F). Stir in balsamic vinaigrette. Season to taste with additional salt. If desired, sprinkle with olives (Phase 4 only) and parsley before serving.