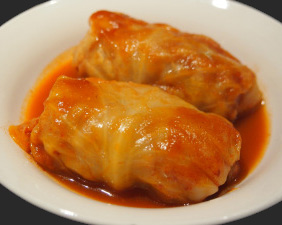 Ingredients:
8 large cabbage leaves, par boiled
1 lb ground turkey
1 Small onion chopped small
8 button mushrooms, finely chopped
1 Small bell pepper and or zucchini, finely chopped
1 can diced tomatoes w/herb and garlic
Garlic Sea Salt and pepper to taste
Directions:
Preheat oven to 350 degrees.
Brown turkey and add onions, bell peppers and mushrooms. Drain well, spoon into cabbage leaves (should be softened but still bright green), wrap like a burrito, hold closed with toothpicks and place in baking dish. Pour tomatoes over the rolls and bake for about 15-20 minutes. You could also use small amount of cauliflower faux rice for filling.