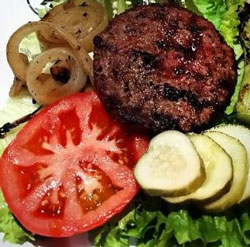 Ingredients:
1/2 pound ground beef or chicken
Dash liquid smoke
Salt and pepper, to taste
1 slice low fat soy cheese (optional)
2 ounces romaine lettuce, chopped, about 1 1/2 cups
2 ounces tomato, chopped, about 1/3 cup
Sauce:
2 tablespoons dill pickle relish
2 tablespoons chopped green onion and or sliced red onions
2 tablespoons WF mayonnaise
1 tablespoon WF ketchup
Directions:
Brown the ground beef with the liquid smoke, salt and pepper; drain off the fat if desired. Add the cheese, if using, and cook until it melts. Put the lettuce in a large serving bowl, red onions and tomatoes, top with the meat and green onions, or if you like it a little spicy top with a couple hot peppers. Combine the sauce ingredients, or you could use WF 1000 Island dressing, pour over and eat!