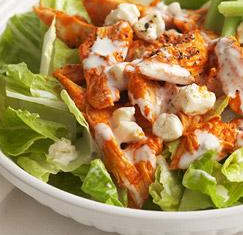 Ingredients:
1 pound boneless, skinless chicken breasts
2 cups chicken broth or water
3 cloves garlic, peeled and smashed
1 jalapeño, cut into rings
1 bay leaf
1 tablespoon salt
1 teaspoon whole black peppercorns
1/2 teaspoon whole mustard seeds
1 teaspoon dried thyme
1/4 cup (or more!) Frank's Buffalo Sauce
1 head iceberg lettuce, thinly sliced
1 large seedless cucumber, thinly sliced
3 ribs celery, thinly sliced
2 large carrots, peeled and thinly sliced
1/2 medium red onion, thinly sliced
1/2 cup fresh parsley leaves, coarsely chopped
Walden Farms Ranch Dressing
Directions:
Make the chicken. In a large saucepan, place chicken, water, garlic, jalapeño, bay leaf, salt, peppercorns, mustard seeds, and thyme. Bring to a boil, then cover and simmer on low, 15-20 minutes. Turn off the heat and let the chicken relax in its spa, covered, for 20-25 minutes. Remove the chicken from the water and shred with two forks, then toss with hot sauce.
Make the salad. In a large bowl, toss the salad ingredients with the dressing using two wooden spoons. Think of it as a mini cardio workout and toss for about two minutes so all the vegetables are coated with dressing. Top with shredded chicken and enjoy!