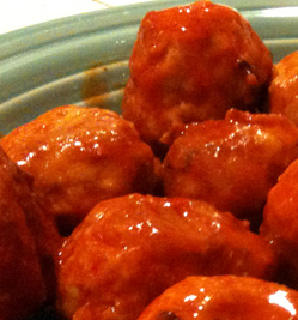 Ingredients:
2 lbs Ground Chicken Breast
1 /2 cup finely grated zucchini (approx. 1 medium, grated on the finest side... of a box grater)
1/2 cup grated celery
½ cup grated onion
1 teaspoon garlic powder
1 1/4 teaspoons sea salt
3 egg whites, beaten
Olive oil cooking spray
1cup of your favorite wing sauce such as Frank's Red Hot
Walden Farms Blue Cheese Dressing, for dipping
Diced Green Onions or chopped fresh parsley for Garnish
Directions:
Preheat oven to 350°F.
In a large bowl, combine chicken, vegetables, spices beaten egg whites and 2 tsp wing sauce. Gently mix by hand the ingredients. Do not squeeze or over mix.
Spray a baking sheet with olive oil cooking spray. Scoop meat mixture into 2 tbsp sized portions. Roll portion gently between palms to form a smooth ball. Place on baking sheet.
Bake meatballs on center rack for 15 minutes. Remove meatballs from oven. Pour wing sauce in a bowl and transfer meatballs to the bowl and toss to coat. Let the meatballs sit in the sauce while you raise the oven temperature to 450°F. Drain the moisture and wipe the grease from the baking sheet. Apply a fresh coat of olive oil spray.
When oven has reached 450°F, give meatballs another toss in the bowl, then transfer, sauce and all to the baking sheet. Bake, on the top rack of the oven for 12-15 minutes.
*Serve with green onions or chopped fresh parsley
*Serve with Walden Farms blue cheese dressing for dipping.