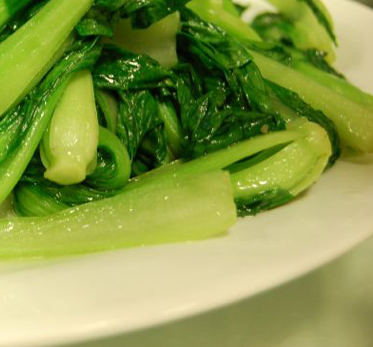 Ingredients:
2 lbs baby bok choy or mature bok choy
2 tbsp extra virgin olive oil
1/2 cup chopped red onion
1/2 tsp salt
1/2 tsp white pepper
2 tbsp seasoned rice vinegar (Nakano is an IP friendly brand)
Directions:
Trim the base of the bok choy, then chop off the leaves. Cut the base in half lengthwise, then
cut the halves crosswise on a diagonal into 1/4-inch-thick strips. Cut the leaves crosswise on
a diagonal into 1 1/2-inch-wide strips.
Place a large wok or a pot large enough to hold all the bok choy over medium heat. When it is
hot, add the olive oil and rotate the wok or pot a bit to coat it evenly. When the oil is hot, add
the onion and stir-fry until softened, 2 to 3 minutes. Add the bok choy and season with the salt
and pepper. Cover and cook until tender, stirring occasionally, about 10 minutes. Stir in the
vinegar and serve hot. Serves 4 to 6.