Phase 1 compatible. Each serving has the oil, salt and veggies required for phase 1.
Serves 4
Serving size: 1.5 cups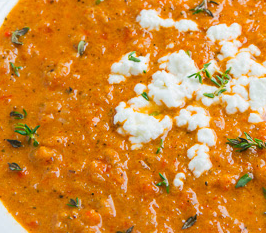 Ingredients:
2 large bell peppers, stemmed and cored, halved lengthwise and pressed flat
4 tsps olive or grapeseed oil
2 shallots, peeled and chopped
1 tsp sea salt
1/4 tsp cayenne pepper (or smoked paprika if you want less spice)
4 cups chicken broth
4 cups cauliflower
1 tsp sweetener
Fresh ground pepper to taste
Chives (optional)
Lemons (optional)
Directions:
1. Preheat broiler to high. Arrange bell peppers skin side up on baking sheet. Broil until skins are blackened, about 10 minutes. Remove peppers from oven and let cool. Peel over a bowl to collect juices; set peppers and juices aside.
2. In a large pot over medium-high heat, warm oil. Add shallots, salt, cayenne pepper and cook about 3 minutes. Add broth and cauliflower. Bring to a boil, then lower heat to a simmer. Cover and cook 20 minutes. Add peppers with juices and cook, covered, 10 minutes. Purée in a blender and add sweetener. Add pepper to taste.
3. Serve hot or cold, garnish with oil, chives and lemon, if you'd like.