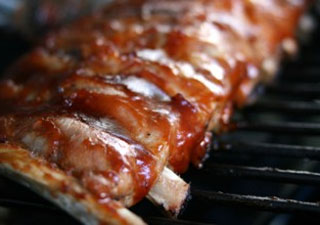 Ingredients:
4 lbs of Pork Spare Ribs - boiled & fat drained
1/2 tsp Sea Salt
1/2 tsp Fresh Ground Black Pepper
Sauce:
1 Tbsp Olive or Grapeseed Oil
1 Small Onion, coarsely chopped (about 1/2 cup)
1/2 cup Ideal Protein Maple or Joseph's Maple Syrup
3 Tbsp Apple Cider Vinegar
3 Tbsp Dijon Mustard
1 Tbsp Chili Powder
Directions:
Heat barbecue and sprinkle ribs with sea salt & pepper, and leave them season while you make the sauce.
In a medium saucepan, over medium-high heat, heat oil for 1 minute.
Add onion & saute slightly until caramelized. Stir in syrup, vinegar, mustard and chili powder. Reduce heat to low and simmer until slightly thickened - about 15-20 mins.
Place ribs on BBQ, cover and cook for 45 minutes, turning 3 times. Brush ribs with glaze and continue cooking for another 45 minutes, turning and brushing with glaze several times.