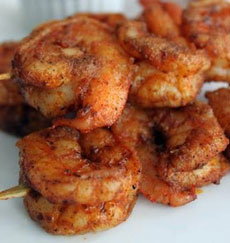 Ingredients:
1 lb medium shrimp, peeled and deveined, with tail shell intact
2 teaspoons olive oil
1 tbsp Cajun seasoning – homemade or store bought
1/2 tbsp chipotle peppers in adobo sauce, finely chopped
2 packets of Splenda1 lemon or lime, sliced in wedges for garnish
Salt and pepper, for seasoning
Directions:
In a large bowl, toss together the shrimp with the olive oil, Cajun seasoning, splenda and chopped chipotles in adobo sauce, and mix well to fully coat the shrimp. Cover and refrigerate for 30-60 minutes.
Barbecue shrimp until they curl up and turn pink.