Makes one mini loaf, or 2 muffins. You can have half (or one) for breakfast, then the other half (or one) for lunch.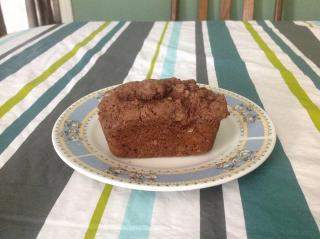 Ingredients:
1 packet Chocolate Drink Mix
1 Packet Banana Pudding mix
1 whole egg
1 tbsp nonfat milk
1 tbsp Olive oil
2 tbsp water
2 tsp Walden farms chocolate syrup
1/2 tsp vanilla extract
Directions:
Pour all contents into the mini loaf and bake at 350 degrees for about 15 minutes. Yields 2 non-restricted products.
I make it in to 2 muffins so I can save one for later. Very Yummy!