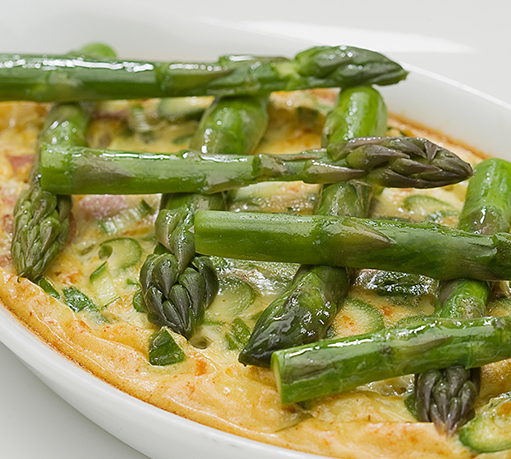 Ingredients:
24 egg whites
3/4 pound ham cooked and cubed
8 cups asparagus
1/2 teaspoon minced garlic
1 teaspoon olive oil
Directions:
Cook asparagus in salted, boiling water until tender.
Lightly mix egg whites with curry paste and seasoning. Pour into oiled casserole dish with cubed ham.
Place in bain-marie, in a 375-degree oven for 10 minutes or until egg whites are set.
Place asparagus in an oven-safe dish. Baste with olive oil and garlic. Salt and pepper.
Bake for 5 minutes or until hot.
TO PLATE: Top eggs with asparagus.
NOTE: A Bain Marie is a cooking container holding hot water, into which a pan is placed for slow cooking. Usually used in the oven.