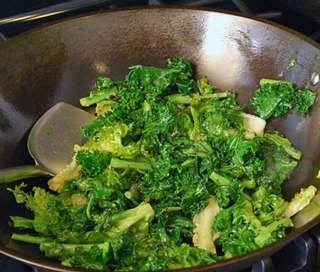 Ingredients:
3/4 pound (1 large bunch) kale*
1/2 teaspoons sesame oil & ½ teaspoon grapeseed oil
1 to 2 clove garlic, minced
1/4 cup (2 thin) minced green onions, both white and light green parts
1 teaspoon finely grated ginger root
1 tablespoon low-sodium soy sauce
Directions:
Wash the kale thoroughly to remove all grit. Discard the tough ribs, and coarsely chop the kale leaves. In a large skillet or heavy wok, heat the sesame oil over medium heat. Add the garlic and ginger root and cook for about 1 minute to release the aromas. Add the kale a bunch at a time and cook 3 to 4 minutes, or until the leaves have softened a bit but the kale retains its shape, add green onion at very end. Remove from heat and add the soy sauce and serve hot.