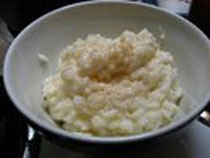 Ingredients:
1 tsp gelatine or Agar Agar with ¼ cup water
1 Ideal Protein Vanilla Pudding & 6 oz water
2 Cups of riced cauliflower – cooked, chopped and cooled into small, rice-sized pieces. (Pulse in blender in small batches for best results).
Splenda (1-2 pkts)
Vanilla (1 tsp)
Cinnamon, nutmeg to taste
Directions:
Mix gelatine with water, add pudding, cauliflower and flavourings (you could use any extract flavourings you like, maple, orange, strawberry) – mix well and put in refrigerator till set. Top with Walden Farms caramel sauce, strawberry spread or just a dash of cinnamon.