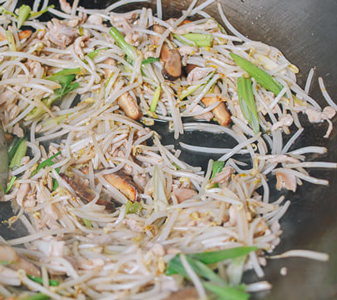 Ingredients:
Marinade:
3 tbs of Kikoman soya sauce
1 tbs grape seed oil
1 clove of garlic,crushed
1/2 teaspoon of 5 spice powder
Stir-fry
1lb of chicken, cut into 1/2 inch strips
2 medium stalks celery, thinly sliced
2 medium stalks celery, thinly sliced
1 tbs grated fresh ginger
6 oz. fresh shiitake mushrooms, sliced into 1/2 inch strips
1 cup of green onion-about 6 onions
4 cups of sliced Chinese cabbage (1/2 inch strips)
8 oz bean sprouts
1 tbs kikoman soya sauce
1 tbs grape seed oil
1 egg
Directions:
Mix together marinade ingredients, add chicken, and mix to coat. Prepare vegetables, and grate ginger and garlic so everything will be ready. Heat large skillet on medium-high heat with grape seed oil and when oil is hot, add the chicken, stir-fry until cooked through, probably 3 to 4 minutes depending upon how thick you cut the chicken, remove chicken from pan. Add the grape seed oil, then the celery, ginger, and garlic. Saute for one minute. Add the vegetables in the following order, stir-frying for 1 to 2 minutes after each addition: mushrooms, cabbage, bean sprouts, green onion. Make a hole in middle of pan and cook egg. Add the kikoman soya sauce and chicken, toss and combine. Serve over a bed of cauliflower rice or in a lettuce wrap.