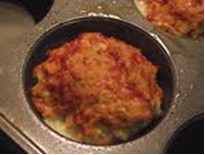 Ingredients:
2lbs. ground turkey, bison or beef
¼ cup finely choppped onion or 1 Tbsp dehydrated onion flake
2 cloves garlic, minced, or 1 teaspoon garlic powder
1 tsp dry mustard powder
1 tsp dried thyme
1 tsp dried sage
½ tsp black pepper
1/2 tsp salt
2 Tbsp Worcestershire sauce
1 egg
¼ cup water (add last may need to adjust depending on consistency, shouldn't be too wet)
Directions:
Optional- add 1 finely chopped celery stalk and some shredded zucchini (or allowed veggies of choice) Mix all ingredients together in a bowl. Using your hands is easiest, but don't overmix. Bake at 350 F for about 1 hour for a large loaf. Muffin-cup meatloaves cook in about 15 to 20 minutes. To be sure the meatloaf is cooked.
About 10 to 15 minutes before you think the meatloaf will be done, you can cover it with Walden Farms BBQ sauce or Marinara sauce.