This is a delicious healthy pancake recipe made with Protein Crispy Cereal.
Ideal Protein has 2 pancake packages (Choc chip & Orange), but both are considered restricted products. Meaning that if you have it, you cant have one of the bars or chili or oatmeal as well in the same day.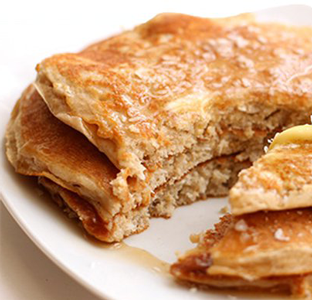 Ingredients:
1 pack IP Crispy Cereal crushed into small pieces.
2 egg whites
1/4 tsp baking powder
1/4 tsp vanilla
Sprinkle Cinnamon & Nutmeg
Directions:
Beat together in small bowl the following:
2 egg whites
1/4 tsp vanilla
Add in to cereal pkg the following:
1/4 tsp baking powder
Cinnamon
Nutmeg
Mix dry ingredients and then add egg whites.
Best cooked on a non-stick electric pan.
Add your Ideal Protein or Walden Farms syrup.