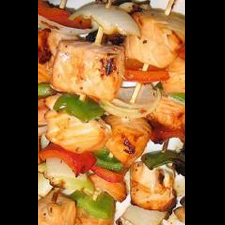 Ingredients:
Salmon
1-2 teaspoons olive oil
salt and pepper
rosemary
lemon juice
tomatoes
peppers
Directions:
Soak skewers in water
Prep salmon & remove skin.
Rub with olive oil, add salt & pepper if you like.
Rub on rosemary
Squeeze lemon juice over the salmon and let it sit for 20 minutes or more.
Prep and cube tomatoes and peppers for skewers.
Cut salmon into cubes
Put salmon and vegetables on skewers, alternate as desired.
Grill or BBQ the skewers rotating often until salmon flakes.