This delightful appetizer serves 2 and makes a great breakfast for egg lovers that are trying to eat less bread.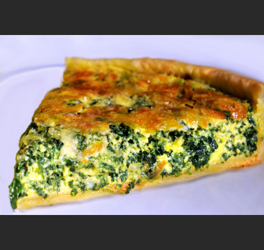 Ingredients:
2 ounces green onion, chopped
2 medium mushrooms, sliced, 1 ounce
10 ounce package frozen chopped spinach, thawed and drained very well
¼ cup red pepper
2/3 cup fat free ham, diced, optional
5 eggs
1/8 teaspoon pepper
1/2 teaspoon salt
Directions:
Sauté the mushrooms until tender. Add the spinach and ham; stir and cook until heated and mixed well. Greased pie plate with spray. Mix in the spinach mixture. Beat the eggs, add onions, salt and pepper. Pour evenly over the spinach. Bake 350º for 25-35 minutes. Makes about 6-8 servings. Options- make a base out of sliced zucchini or change the vegetables based of preference.