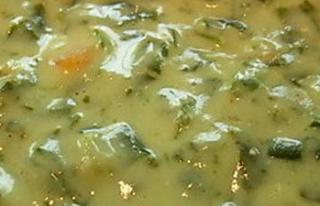 Ingredients:
1 bag of baby spinach, cleaned
3 cups of water
Sea Salt
Garlic powder, to taste
Onion powder, to taste
1 tbsp (15ml) dried dill (optional)
½ to 1 packet of Ideal Protein Chicken or leek soup.
Directions:
Bring 3 cups of sea salted water to a boil. Take off heat. Immediately immerse the baby spinach in the water until completely wilted. Quickly drain the water from spinach and rinse under cold water to preserve spinach's bright green colour; then squeeze all the excess water. Make your ideal protein soup as you usually would by adding hot water minus 2 oz of water. Pour half or more of hot soup mixture into a blender and add half of the cooked spinach. Add seasonings. Blend well until smooth and creamy. Transfer the remaining spinach to a large soup bowl and cover with warm spinach cream.