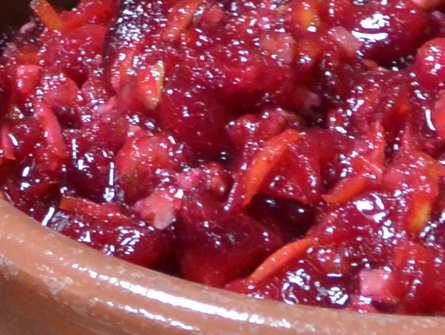 Ingredients:
1 cup water
1 cup fresh whole cranberries
4 celery sticks chopped
1 cup chives chopped
1 cup chopped zucchini
6 mint leafs
1 tsp Orange zest
1 IP Raspberry Jelly packet
3 tsp Walden Farms Raspberry Jelly
1 tsp Xylitol
Directions:
Boil the cranberries in the 1 cup of water for about 5 min. Pour the water off
In to a cup should be about 5 oz. of liquid and still warm. Put the IP Raspberry
Jelly Packet into it and mix well. Pour into a bowl and put in the icebox to
set-up. Chop together cranberries, celery, chives, zucchini, mint leafs and orange
zest. Chop in a food processor or by hand. Mix in with Xylitol and Walden
Farms Raspberry Jelly into the Jelly mix cooling in the icebox. Add the
cranberries and the vegetables and mix together.
Let cool in bowl and then serve with celery sticks or flax seed crackers.