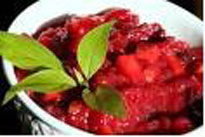 Ingredients:
1 12 oz bag cranberries - fresh or frozen
1 cup chopped onions
1 small zucchini, chopped
1 teaspoon cinnamon
1/2 teaspoon allspice
pinch cloves
1 teaspoon mild chili
1/2 cup water
1/2 cup sugar equivalent - splenda
2 Tablespoons lime juice
1 teaspoon oil
Directions:
Put oil in pan – sweat off onions. Stir, and cook for about 2 minutes. (You don't want them to be completely soft). Add zucchini and spices. Stir and cook another minute. Add water and sweetener, and then the cranberries. Cook about 5 to 7 minutes. You may have to add a little more water if it starts to stick. You don't want to the cranberries to fully break down, some of them should still be whole. Add lime juice and stir. Taste (careful, it's hot) and adjust tartness/sweetness level by adding more sweetener and/or lime juice. Use sparingly for special occasion roasted turkey.