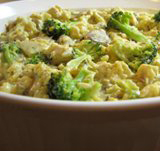 Ingredients:
16 ounce bag frozen Winter Mix vegetables, thawed
2 cups diced, cooked chicken
4 ounce can mushrooms, drained
2 stalks celery, finely chopped
2 tablespoons oil
1/4 cup WF mayonnaise
1/4 teaspoon salt, or to taste
1/2 teaspoon pepper
1/8 teaspoon garlic powder
Directions:
Place the vegetables and the chicken in a greased 9-inch square baking dish. In a medium skillet, sauté the mushrooms and celery in the oil until very soft and a little browned, about 8 minutes. Stir the mayonnaise and seasonings into the vegetables until well coated. Mix in all of the remaining ingredients along with the sautéed vegetables. Cover the baking dish with foil and bake at 350º for 40 minutes. Uncover and bake 5-10 minutes longer until the casserole is browned and bubbly. Sometimes I will use a packet of Ideal Protein chicken soup or with the mayo, add in some Dijon mustard and other herbs and seasonings to taste.