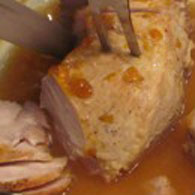 Ingredients:
1 3lb pork shoulder roast, boneless, fat trimmed
1 jar WF apricot fruit spread,
1/4 cup IP friendly stock
2 tbsp IP friendly Dijon Mustard
1 large leek, chopped
Directions:
Place pork roast in slow cooker. In a small bowl combine apricot fruit spread, broth, mustard and leek pieces, stirring well. Add to slow cooker pouring over top of roast. Cover and cook on low for 10-12 hours or on high for 5-6 hours.
Transfer pork roast to cutting board. Skim fat from top of slow cooker broth, then serve over pork roast. Enjoy!